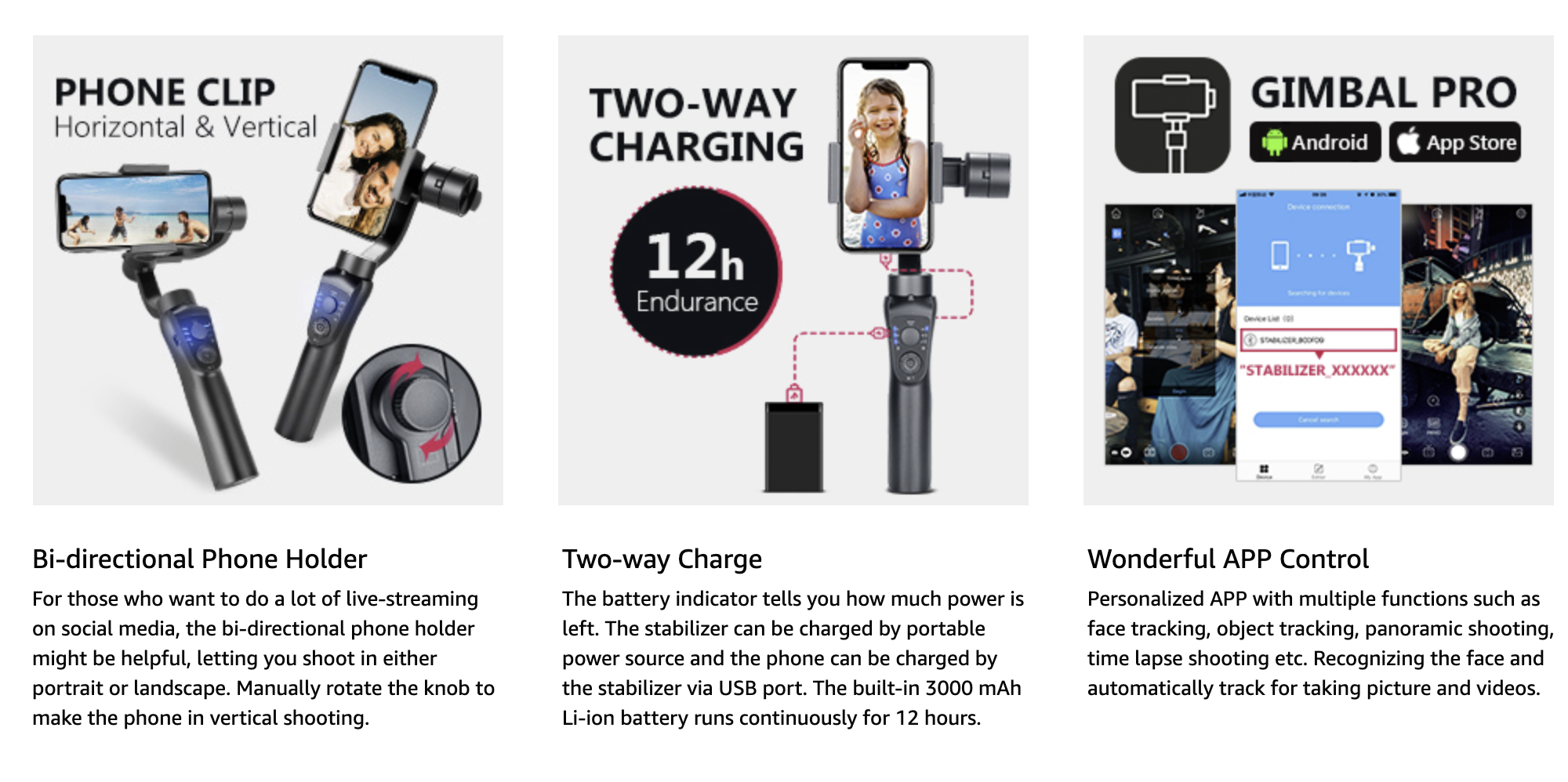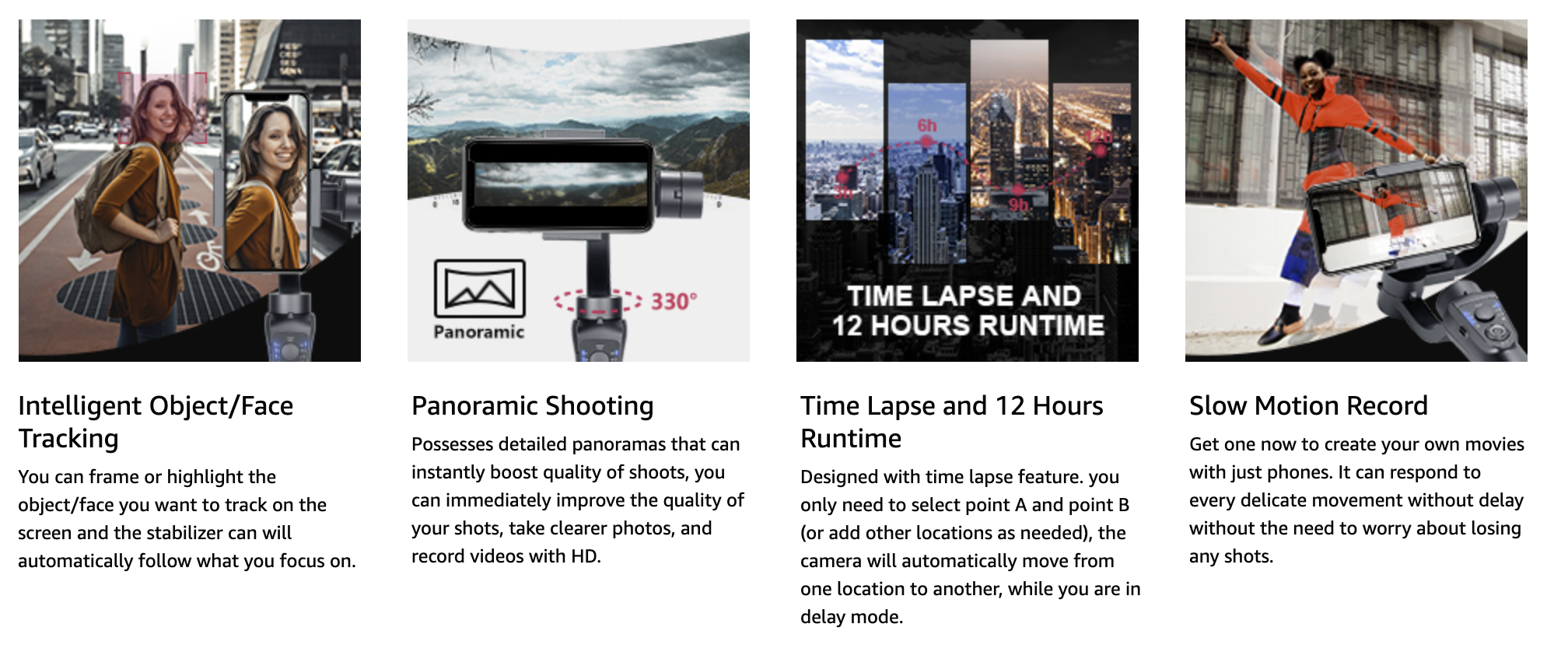 Intelligent Object/Face Tracking
You can frame or highlight the object/face you want to track on the screen and the stabilizer can will automatically follow what you focus on.
Panoramic Shooting
Possesses detailed panoramas that can instantly boost quality of shoots, you can immediately improve the quality of your shots, take clearer photos, and record videos with HD.
Time Lapse and 12 Hours Runtime
Designed with time lapse feature. you only need to select point A and point B (or add other locations as needed), the camera will automatically move from one location to another, while you are in delay mode.
Slow Motion Record
Get one now to create your own movies with just phones. It can respond to every delicate movement without delay without the need to worry about losing any shots.
Bi-directional Phone Holder
For those who want to do a lot of live-streaming on social media, the bi-directional phone holder might be helpful, letting you shoot in either portrait or landscape. Manually rotate the knob to make the phone in vertical shooting.
Two-way Charge
The battery indicator tells you how much power is left. The stabilizer can be charged by portable power source and the phone can be charged by the stabilizer via USB port. The built-in 3000 mAh Li-ion battery runs continuously for 12 hours.
Wonderful APP Control
Personalized APP with multiple functions such as face tracking, object tracking, panoramic shooting, time lapse shooting etc. Recognizing the face and automatically track for taking picture and videos.
Compatibility (Adjustable Range of Phone Clip: 53-80 mm):
iPhone 5s/SE/ 6/6Plus/6s/6s Plus/7/7 Plus/8/8 Plus/ X/ Xs/ Xs Max/ Xr
Google Pixel2/ XL/Pixel/Pixel XL/Nexus 6/ Nexus 6p/Nexus 5x
Samsung S9/S9+/ S8/S8+/S7/ S7 edge/S6/S6 edge/S5/Note8/ Note7 (Except S9+, S9, 4K function is NOT available for Samsung at this moment)
Huawei P20 pro/P10/P10 Plus/ P9/ Mate 10/Mate 9/ Mate 8/Mate S/Oneplus 6/5/5T/ 3/3T/Xiaomi mi 8/ 7/6/5/ 5s/ 4/Redmi Note 4x/Note 3
LG G6/G5/Smartisan NUT Pro 2/U1 Pro/Oppo Find X/R9s/Vivo X7/Nex
Note: Only fit for smartphones under 6 inch. Please fully charge the stabilizer before use.
Specifications:
Load Capacity: 2.65-8.11 ounce/75-230 gram
Battery Capacity: 3000 mAh; Charging Time: 5 h
Height: 10.6 inch/27 centimeter
Weight: 16.23 ounce/460 gram
Tilt Mechanical Range: 325 degree (-160 to +160)
Roll Mechanical Range: 180 degree
Pan Mechanical Range: 330 degree