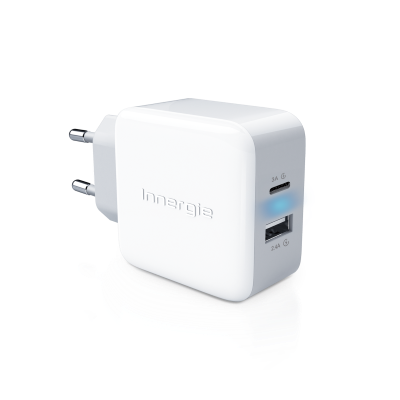 Compact - Minimum size, powerful performance
Compatibility - Dual ports USB-C & USB-A for most of the devices.
Smart - Capable of fast-charging virtually all brands.
Safe - Maximum energy protection for all devices.
A compact 2-Port USB-C & USB-A wall charger that charges multiple devices at the same time. The USB-C and
USB-A ports provide up to 5.4A of current simultaneously and charges most of mobile devices and even the
MacBook. Its petite dimensions ensure the Innergie 27M doesn't block other sockets when plugged in, while
making it ideal as an everyday carry item. Only Innergie products come equipped with this powerful protection
technology, offering a level of security no other device can match. Our promise comes from our mission to
conserve energy. By improving our designs, we strive to optimize energy use and realize our sustainable green
energy concepts. Innergie offers an industry-leading 3-year warranty on its entire line of chargers.